Izmir – International Trade Law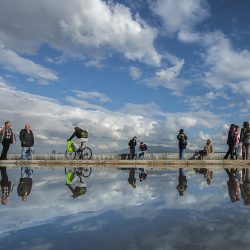 Description
ELSA Izmir proudly presents its 3rd Summer ELSA Law School on International Trade Law. You'll get a chance to attend lectures by the most influential professionals in their respective fields, thus guaranteeing an enriching academic programme.
Izmir is a major seaport and the heart of the Trade in Western Turkey and is proudly liberal and deeply cultured. Garlanded around the azure-blue bay, it has been an important Aegean port since ancient times. The city is home to compelling attractions including one of Turkey's most fascinating bazaars, an impressive museum of history and art, and a local lifestyle as laid-back as it is welcoming.
We are looking forward to an exciting, unforgettable week and wish to welcome you to our beautiful city Izmir!
For more information please visit our Facebook Page.
Maximum participation fees
ELSA Member from a non-favoured country - 290€
ELSA Member from a favoured country - 270€
Alumni/Member of a Partner Organisation/Non ELSA Member - 350€
Maximum extra fees
Gala Ball - 35 €
Two way airport transfer - 15 €
Extra Night - 35€
Accommodation
Dormitory of Izmir University of Economics
Date of arrival
05/08/2018
Date of departure
12/08/2018
Academic Partner
Izmir University of Economics
Academic Programme
The ELSA Izmir Law School aims to provide a varied, up-to-date and internationally-orientated academic programme.
The general scope of the academic programme includes the following topics:
Introduction to International Trade Law
Marine Insurance
Essential Components of International Trade Contracts
The OECD Convention on Bribery: recent cases and controversies
Drafting Enforcable Arbitration Provisions and Institutional Arbitration
The Applicable Law to Unfair Competition
Breach of International Sales Contracts
The role of INCOTERMS in International Contracts
Deal Lawyers in the International Field
Contact
seminarsconferences.izmir@tr.elsa.org