Vienna – Dispute Resolution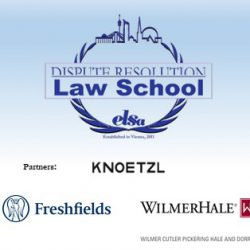 Description
ELSA Vienna is excited to present you the 7th edition of the ELSA Vienna Summer Law School on Dispute Resolution which will take place from 29th July to 5th August 2018.
Throughout six intensive days, participants will have the opportunity to deepen their knowledge on dispute resolution through a variety of lectures and workshops led by renowned international experts. In addition to that, a diverse and fun social programme will be provided. The participants will have the chance to get to know new friends from all over the world, as well as to explore and enjoy the unique atmosphere and beauty of Vienna.
We are looking forward to an exciting, unforgettable week and to welcoming you to Vienna!
Follow us on Facebook: https://www.facebook.com/elsaviennalawschool/
Maximum participation fees
ELSA Member from a non-favoured country - 350€
ELSA Member from a favoured country - 315€
Alumni - 400€
Member of a Partner Organisation/Non-ELSA Member - 450€
Maximum extra fees
Gala Ball - 50€
Two-way airport transfer - 8€
Accommodation
Meininger Downtown Franz, Vienna
Date of arrival
29/07/2018
Date of departure
05/08/2018
Academic Partner
University of Vienna
Academic Programme
Monday – Introduction to Dispute Resolution
What are Conflicts, How do they Arise and What is the Best Way to Resolve them?
What Are the Available Conflict Resolution Mechanisms?
Which One Should You Choose?
Tuesday – Mediation
Mediation Basics and Techniques
How to 'Get a Yes'
Wednesday – Arbitration
Preparing for a Case
Written Submissions and Oral Pleadings
Cross-Examination of Fact and Expert Witnesses
Procedural Tactics
Thursday – Litigation
Process and Process Management
Remedies, Enforcement and Legal Protection
How to Achieve Effective and Efficient Case Management
Friday – Negotiation
Negotiation Basics
Main Theories
Practical Exercises
Day 6 – TBA
Contact
director.ls@elsa-wien.org