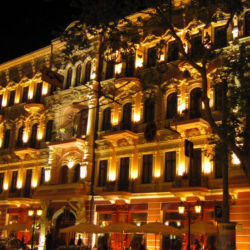 Description
ELSA Odesa is glad to announce the 7th Summer ELSA Law School on Maritime Law!
Previous years gives us an understanding what students want to explore and improve in Maritime Law that is why we want to familiarize you with our School!
7 days of amazing academic program which includes huge value of practical knowledge! Best maritime lawyer law firms and scientists will give you the most practical knowledge on our school. According to last school we decided to change the format and this year lectures will be in the form of "theoretical issues - real case - resolution". It is unique opportunity for you to explore international private maritime law from the other side!
Also this academic program will be supplemented by inspiring social program, which brings you more motivation to study!
Still thinking? Contact us and we will tell you more!
Maximum participation fees
ELSA Member from a non-favoured country - 310€
ELSA Member from a favoured country - 270€
Alumni/Member of a partner organisation - 320€
Non ELSA Member - 320€
Maximum extra fees
Gala Ball - 40€
Two-way airport transfer - 20€
Accommodation
Orange Hotel, Odesa
Date of arrival
04/08/2019
Date of departure
11/08/2019
Academic Partner
National University Odesa Law Academy
Academic Programme
«Maritime law is a body of laws, conventions and treaties that governs international private business or other matters involving ships, shipping or crimes occurring on open water.»
Taking into consideration last experiences and opinions of our participants of Summer ELSA Law School on Maritime Law in Odesa, the school in 2019 will be full of practice and competition into academic process.
So, the main topic is Maritime law & Dispute Resolution , which will cover such fields:
Criminal cases ( i.e corruption,crimes,smuggling);
Commercial cases Labour cases (protection of seafarers' rights);
Insurance issues.
Academic process will consist of these three blocks into which you will gain information from the best lawyer of Black Sea region.
Lectionary format of Summer ELSA Odesa Law School is "Theory-Case-Resolution". You have a wonderful opportunity to understand now and use in the future maritime law.
Apply and and come to Odesa!
Contact
sels.odesa@ua.elsa.org
Apply here